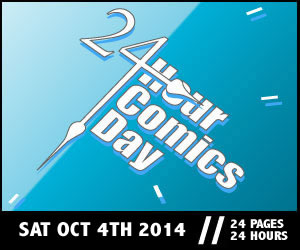 So here we go, I'm going to be crazy and create a 24 pages comic in the next 24 hours. I'm not sure about the story yet and I'm not sure about the topic.
O

k maybe

demon, mermaid and Egypte!
And I never created a story before even though I have illustrated a few stories.
So why the hell do I think I can do it?
Well, my motto is if a human being can do it, I can do it too. As long as you don't ask me to run or shot a basketball in the basket that is.
But people don't write comics in 24 hours!
Well, actually, they kinda do, especially crazy people
here
.
So anyway, I'll be uploading some sort of progress as regularly as possible through the day.
My first problem is that I was thinking too much about bad stuffs to sleep before starting and I'm a bit tired and freaking out.
My second problem is my fridge is empty.
My third problem is I know what to write somehow, but it's super complicated and unrealistic.
So yeah, that's going to be a total blast and I have no idea what I'm doing as usual but I'm doing it!
The plan is, start as Monica, finish as Rachel! You just click when they click!
Follow my blog with Bloglovin
Find us on Google+